Posted by Lynnsy Johnson - Saddle Up on Nov 7th 2019
Happy Thursday everyone! This blog is for all of our trail riding fans out there! These are the top 8 recommended places in Colorado to go trail riding. Remember to always check the rules/regulations of each park and be safe! Know your surroundings so there aren't any surprises out on the trails. Oh yea ....... and have fun! Colorado has amazing views and sights so enjoy! These 8 places offer different riding options and even overnight camping trips! Pick your favorite and saddle up your pony!
1. Rocky Mountain National Park
Rocky Mountain National Park is one of Colorado's biggest tourist attraction. It is known for its gorgeous rivers, high mountain lakes, abundance of wildlife, and wild flower meadows. This park offers about 260 miles of trails that allow horses. There's overnight camping and stables so you and your horse can enjoy a night under the stars. There's also an awesome dude ranch that works closely with this park and happen to be great customers of Saddle Up! They are called Sombrero Ranch so be sure to check them out while you're up there! They do have rules and policies at Rocky Mountain National Park. You can bring your horses, ponies, donkeys, and even llamas, but you have to leave your goats at home!
2. Maroon Bells
Maroon Bells has the most photographed peaks in Colorado. These trails feature beautiful lakes just below the Aspens. It also showcases the stunning snow spotted rocky peaks. The possibilities are endless at Maroon Bells! You have the option of doing an overnight ride, hourly rides, pony rides for the kids, full day rides, and more!
3. Garden of the Gods Park
This is a trail that I may have to try myself! The spiked red rock formations at Garden of the Gods were formed more than 200 million years ago, so be sure to bring your camera! This trail is nice and easy and ideal for beginners. The primary outfitters for this park are The Academy Riding Stables in Colorado Springs. They offer 1-2 hour trail rides and loads of fun!
4. Estes Park
If you are from Colorado, then you are no stranger to Estes Park. It is known for its beautiful scenery and being so close to the Rocky Mountain National Park. Estes Park features valleys, thick forests, lakes, towering peaks in Roosevelt National Forest, and it is home to a lot of wildlife. This is a great place to embrace Colorado's roots.
5. Weminuche Wilderness
This trail is located in southwest Colorado. It resembles the wild west and goes through towns like Durango and Pagosa Springs. It features the rocky peaks and Continental Divide. Bask in the beauty of wide open, green meadows and get a taste of what it was like to live back in the old days. This is known as the longest wilderness area and a multi day pack trip is recommended.
6. Brown's Creek Falls
What's better than a beautiful trail ride with your horse? Well try a beautiful trail ride with your horse and waterfalls! Yes this trail features multiple waterfalls! It is located in the San Isabel National Forest near Salida. Another cool treasure is the waterfalls are known for housing hidden gems! There is also a valley between Mount Antero and Tabeguache Peak.
7. Historic Routes
Estes Park Outfitters offer an intimate ride ( with a 4 person limit ) visiting multiple historic landmarks. This includes historic homesteads and meadows near Rocky Mountain National Park. You will also experience blue skies, fresh air, and breathtaking views.
8. Colorado's World Class Dude and Guest Ranch
If you are in search of a great vacation spot for your family, check out Dude Ranch Vacations! This gives you unlimited access to spectacular riding programs and tons of fun! There's horseback riding, whitewater rafting, biking, fishing, hot springs, massages, and more! If you are interested, check out the Colorado Dude Ranch Listings to find your perfect vacation spot!
We hope you find this blog helpful and enjoyable! Please feel free to leave your feedback if you have ventured onto any of these trails or if you have other recommendations to share!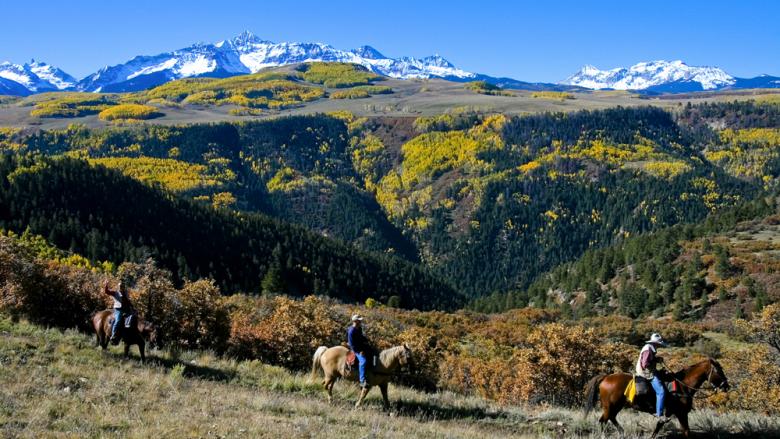 ( picture credit: https://www.colorado.com/activities/horseback-riding )