Posted by Lynnsy Diekman - Saddle Up on Dec 3rd 2020
Gills Bay Boy was a short little bay horse, born in 1977. Today, he is known as one of the most iconic equine figures in the world. You may know him better as Scamper. He was sired by Gills Sonny Boy and his dam was Drapers Jay. He not only had one of the most successful barrel horse careers, but he also helped a small town cowgirl accomplish her dreams.
Charmayne James was a young cowgirl out of New Mexico. She was from a small town, but she had big goals. From a young age, she had the love of horses running through her veins. She wanted to run barrels and she had aspirations to win the world. By age 10, she was competing competitively on her horse Bordo. Charmayne was placing pretty well on Bordo, but tragically he broke his leg and had to be put down. This was devastating. Charmayne had such a bond with this horse and now her career was at a halt. A family meeting was held to figure out what the next steps were. Her father told her "You have to pay your own way to rodeo." She didn't have much saved, but she was determined.
Charmayne's father had found a horse at a feedlot and suggested she go look at him. He was a small bay gelding and he had a bad reputation. This horse was unpopular among the cowboys who worked there because he had a bucking problem. In fact, he had thrown most of them off. He wasn't the ideal barrel horse and was thought to never make it to much. Charmayne was on the fence, but he was cheap and she needed a horse. She paid around $1,000 for the gelding and took him home. The first time she rode him, she got brave and decided to canter him around the pen. He went to bucking with her, but she stayed on. She couldn't help but laugh the whole time. Once the bucking stopped, they loped off and even went around some barrels. She decided to name him Scamper because of the way he scampered around the barrels. They became inseparable and Charmayne was the only one to train him. This was the beginning of a one in a million partnership.
Charmayne put in all the time and training on Scamper. She then began hauling him and entering him at the barrel races. It quickly became challenging for the young cowgirl. She was winning at a higher level and now she had to start all over. James was on a brand new horse and the competition was pretty tough. They were having a hard time placing at the pro rodeos, but did win at some of the amateur races. Charmayne became intimidated and lost a lot of her confidence. Despite all this, she decided to enter the San Antonio Stock Show and Rodeo. Their luck took a turn at this event. Charmayne was nervous, but Scamper ran faster than he ever had before. He took amazing care of her and they even won first place. This was their first pro rodeo victory and the start of decades of world titles.
Scamper dominated the barrel racing world from 1980 to 1993. Together, they won 10 World Champion Titles in the WPRA (women's professional rodeo association) and 10 Rodeo Houston Titles. Scamper was also a 5 Time AQHA (American Quarter Horse Association) and WPRA Barrel Horse Of The Year. In 1992 Scamper was awarded the AQHA Silver Spur Award which was for special notice and for bringing fame to the Quarter Horse breed. Some of Charmayne and Scamper's biggest accomplishments took place at the NFR (National Finals Rodeo) where they won many champion titles. They brought home the NFR victory in 1984, 1986, 1987, 1989, 1990, and 1993. In 1985 they made a run at the NFR in Las Vegas that became famous. As Charmayne rounded the first barrel, her bridle came off! Scamper held onto the bit all by himself and then finally let it go to finish his run back down the alley. The two never quit running and they won that go-round stopping the clock at a 14.4. Charmayne was only 14 at the time and since has been one of the youngest competitors to qualify for the NFR. The bridleless run has since been legendary and is still shared on social media today. It will give you literal goosebumps.
Scamper was semi retired in 1993, but did go on to win more in following years. In their career, Scamper and Charmayne James earned over $1 Million. Charmayne was actually the first million dollar cowgirl. They were amazing individuals and even better as a team. Scamper was also the first barrel horse to be inducted into the Pro Rodeo Hall of Fame.
After retirement, Scamper spent his days in green pastures at Charmayne James ranch. They had an outstanding career and Charmayne was forever grateful for this horse. "He loved me right from the get-go. He was a gift and i was lucky to have the talent to take him where we went. There's no horse on this Earth as tough as him." Charmayne had said in an interview. Scamper passed away on Charmayne's ranch in 2012. He was 35 years old and lived an incredible life. He was buried on the ranch and his legacy lives on every day.
Scamper is immortalized in a bronze statue commissioned in 2000 by the Pro Rodeo Hall of Fame. Charmayne loved this horse so much that she even went to the length of cloning him. She payed $150,000 to an Austin based company to clone Scamper. After four failed attempts, it finally worked. She named the stud colt, Clayton, and they were identical. "He looks so much like Scamper, when I walked into the stall and looked at him, the hair on the back of my neck stood up," she said. Clayton was kept as a stud and is now used for breeding purposes. The foals can't be registered with AQHA, but they are eligible to compete. "Scamper was one of the greatest horses ever, and I know that now more than ever," James said. "I wanted to get in and save his genetics, because if they were ever able to clone a horse, Scamper would be the horse to clone."
This is an outstanding story with two incredible athletes. Scamper will forever be remembered and Charmayne is still an amazing horsewoman. The two were a dynamic duo and definitely left hoof prints in the barrel racing industry.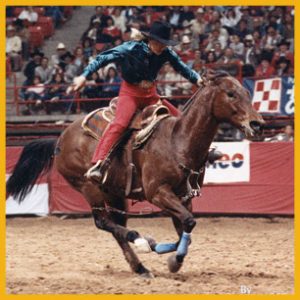 (picture and quote credit: https://www.prorodeohalloffame.com/inductees/by-ca...
https://www.mysanantonio.com/news/local_news/artic...
https://www.espn.com/sports/horse/news/story?id=2663521)