Posted by Lynnsy Johnson - Saddle Up on Sep 3rd 2020
The date is April 17, 1973. The location is The Philips Ranch, near Frisco, Texas. A bright, sorrel colt made his entrance into the world. He was sired by Rocket Wrangler and his dam was a King Ranch Thoroughbred known as Find A Buyer. This colt was a grandson of Three Bars and Go Man Go, so his pedigree was already very impressive. From the moment he was born, B.F. Philips knew he was special. When the colt first stood up, Philips went back into his house and told his wife, "The best horse ever born on the place just hit the ground." This stud colt was beautiful. He was sorrel, but had the perfect conformation, even as a new born. Philips knew he had potential. The horse was named Dash For Cash. They called him Dash for short.
Dash was not a forgettable horse. Even as a baby, he carried himself in such a professional way. Philips recalls watching him in the pasture with the other colts. He was never aggressive or pushy, but he was always in the lead. You could just tell he was the best colt. When he became a yearling, he was put into a training program. He excelled at whatever they put him up against. He was smart and very athletic. Dash definitely had some wheels. He was very, very fast. With that in mind, he began his riding career on the racetrack.
In 1975, Dash was entered into his first race. He was a two year old, but that didn't phase him. He was entered into a 300 Yard Trial for The $45,128 Lubbock Downs Spring Futurity. He won easily by 2 1/4 lengths, clocking the third fastest time at a 15:95. The sorrel horse got people's attention at this race. Bubba Cascio became the jockey for Dash. During the race, Dash was up against some really tough horses. He immediately charged to the front of the line when the gates opened up. He left the third place horse behind with daylight showing and held off second place by a head. Dash cruised under the wire in 15:59, picking up a speed index of 101. He also set a track record that stood until 1984. Dash also won $20,307. This was one of the many jaw dropping races that Dash For Cash ran in. At the end of his racing career, he earned a speed index of 114.
Bubba Cascio was the only trainer the horse had ever had. Cascio would go on to say, "He has a good disposition and his attitude reflected his ability as a competitor. He loved to race and to be in the fray. He was blessed with great speed, and his stride measured 34 to 36 feet when he was going full speed. But his biggest asset was probably his real good, level mind. Because of it he made few mistakes on the track."
Dash For Cash defined Quarter Horse racing from day one. He had a dual career as a racehorse and a sire. Dash ran 25 races in three years, finishing first with space left between him and the other horses. He only finished second place a total of 3 times. He would go on to earn a total of $507,688. This was before Quarter Horses were earning million dollar purses. Dash was also the first horse to have consecutive victories in The Champion of Champions in 1976-1977. He was a prestigious sire who bred many mares. Ironically, many fillies that he met at the racetrack, later met him in the breeding barn. He was very intelligent, versatile, and had many skills that he passed onto his offspring.
From 1,069 starters in 19 crops to race, Dash sired 751 winners, 135 stake winners, 880 Registers of Merit earners, 112 Superior earners, and 16 World Champions. They all earned a total amount of $37,386,838. Even though Dash For Cash dominated on the race track, he was also a really talented cow horse. He sired cow horses that would go on to be National Cutting Horse Association World Champions. He sired around 15 point earners, an AQHA Reserve Champion and a World Champion. His offspring has won a total of $128,858 in National Cutting Horse Association Events. Many Ranches like The 6666's Ranch, even use them as working horses.
Dash For Cash took the racing world by storm and will forever be known as a legendary horse. As he got older, he ended up living out his life at The 6666's Ranch. The Ranch was located in Texas. Sadly, he had to be put down due to complications of Equine Protozoal Myeloencephalitis (EPM). This was in May 1996 and he was 23 years old. Dash was cremated and his ashes were buried at the foot of a life size statue of him, which stands at the AQHA Horse Hall of Fame and Museum. He was inducted into the AQHA Horse Hall of Fame in 1997.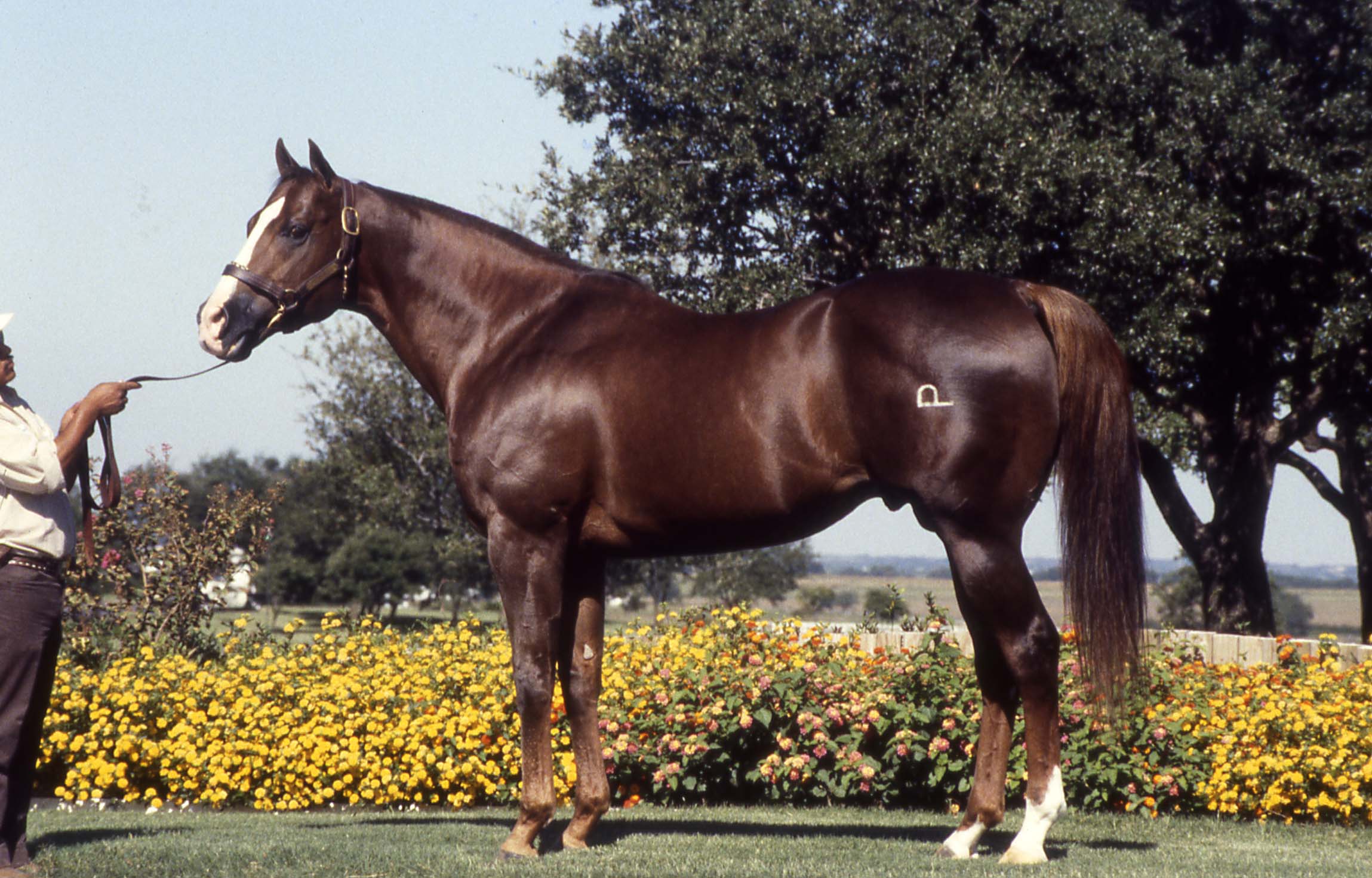 (picture credit: https://www.aqha.com/-/dash-for-cash?_ga=2.241906692.787745882.1581697971-124929076.1581697971 )