Posted by Lynnsy Johnson - Saddle Up on Nov 19th 2020
French Flash Hawk or as most people remember him, Bozo, was born in 1987. He was American Quarter Horse Association Barrel Horse of the year 5 times. Bozo was also a WPRA World Champion Barrel Racing Stallion. He is known as one of the greats and is still one of the most recognized athletes in Professional Rodeo. Bozo took the barrel racing world by storm along with is amazing jockey, Kristie Peterson. The two of them were a dynamic duo and they made their mark all around the world.
Bozo was by Sun Frost and Casey's Charm. His pedigree was astonishing to look at and he lived up to the expectation. He was a beautiful sorrel stud with a big blazed face, that definitely marched to the beat of his own drum. He came into this world with a purpose. As a two year old, a gal named Kristie Peterson purchased him off of a feedlot for $400. Kristie was out of Elbert, Colorado. She was in the market for a project horse and had every intention on making a profit off of this young horse. It was only $400 right? She couldn't go wrong by buying him, breaking him, and then selling him for more money. Peterson brought this stud colt home and the rest is just history. The two had an incredible bond that could not be ignored and it was like they were a match made in Heaven. Kristie broke him and started training him. She did try selling him once as a three old for $2500. Bozo's feet at the time needed to be done, so the seller backed out. I believe this was a blessing in disguise.
Bozo became a champion in the arena and backed it up with his revolutionary bloodlines. Kristie and Bozo started hauling to the barrel races and quickly became the team to beat. It could be a small indoor or a standard outdoor and they would blow everyone out of the water. Bozo loved competing, especially barrels. He was independent and liked to do his own thing, but he ran barrels with all of his heart. He loved to please, but had a very professional attitude. Bozo became a Champion Derby and Sweepstakes barrel horse. Peterson also rode him to victory at many major rodeos including Denver, Colorado Springs, and Cheyenne. They made a huge mark in the WPRA (Women's Professional Rodeo Association). Peterson and Bozo actually won first of four WPRA World Titles in 1994. They finished second in the WPRA in 1993, 1995, and 1999. The victory of three straight championships was also claimed in 1996-1998.
Bozo and Kristie Peterson won 5 NFR (National Finals Rodeo) Average Titles from 1994 to 1998. The team was just unstoppable. Bozo was up against some really tough competitors including Charmayne James and her horse Scamper. They held strong and still took home a lot of champion titles. They won four Dodge National Circuit Finals Rodeo Titles in 1992, 1994, 1995, and 1998. Everyone loved and knew Bozo. He was a rocket and Kristie rode him like she was born for it. Kenneth Springer, a Professional Rodeo Photographer, made this quote about Bozo, "Bozo was one of the most consistent and greatest horses ever..... from age 4-17 he never weakened." This rang true when Bozo was also crowned WPRA's Horse With The Most Heart four times in 1995-1998.He was like a real life Barrel Racing Unicorn.
Through their barrel racing career, Bozo and Kristie recorded a whopping $1,346,861. Peterson was the second WPRA cowgirl to cross that $1 million mark in earnings. The Peterson's were so thankful and grateful for Bozo. He was more like family than a horse. He not only made life fun, but helped them out financially. They were able to buy their dream home thanks to Bozo. Although he was an outstanding horse, he was known to have an arrogant personality. He was all business and didn't want any love or affection. In an article, Kristie stated, "Because he's so great, I'd like to love on him a little bit, but he just won't tolerate it. Let's just say that if he was a person, you wouldn't want to be married to him."
After an amazing career and many accomplishments, Peterson retired Bozo in 2003. Kristie and her husband, Chuck, always said he came into the world on his own terms. They also believe he went out the same way. In 2016, Bozo peacefully passed away at the Peterson's Texas home. He was one of the best and the name "Bozo" will never fade from the horse industry. They were the dream team and became role models to many people, including myself. Watching them work together will simply give you goosebumps. Bozo will always be in Kristie's heart, as well as their fans.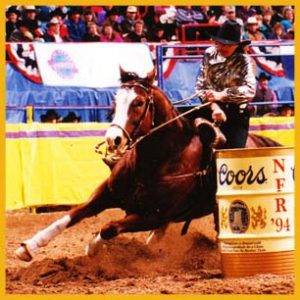 (picture and quote credit: https://barrelhorsenews.com/barrel-racing-articles...
https://www.prorodeohorses.com/french-flash-hawk-a...